This is an archived article and the information in the article may be outdated. Please look at the time stamp on the story to see when it was last updated.
The alleged gunman accused of opening fire with a semi-automatic rifle inside a crowded terminal at LAX has been identified as 23-year-old Paul Anthony Ciancia, a resident of Los Angeles and a U.S. citizen.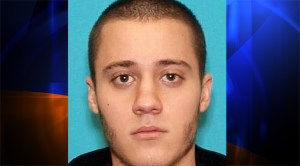 Ciancia walked up to the security check point, and "pulled an assault rifle out of a bag and began to open fire," airport police Chief Patrick Gannon.
He shot two TSA agents, killing one, as he made his way past the check point. He then ran toward the gates in Terminal 3 where he was chased down and shot multiple times by an LAPD officer, authorities said.
Ciancia sent a series of "angry, rambling" text messages to family members in the days leading up to Friday's rampage, authorities said. He seemed particularly angry at the Transportation Security Administration and may have been specifically targeting TSA employees.
Passenger Leon Saryan hid in a corner and watc.hed as the shooter "calmly walking down the corridor" toward him.
"He said, 'TSA?'" Saryan said. "I just shook my head, and he kept going."
An anti-government note was also found in Ciancia carry-on bag that expressed "his disappointment with government,"  the L.A. Times reported.
The note ended with the letters "NWO" which was believed to stand for "New World Order," law enforcement sources said.
There was also evidence that Ciancia's family in New Jersey was aware that the 23-year-old was depressed and feared he may be suicidal.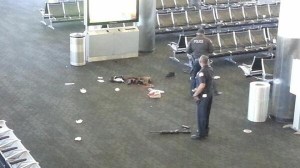 LAPD officers were asked to go to Ciancia's apartment in Atwater Village on Friday to conduct a welfare check at the request of his father in New Jersey.
The elder Ciancia had contacted police in Pennsville, N.J. with concerns that his son may be suicidal, Chief Allen Cummings told multiple news agencies.
"Their younger child got a text message from Paul stating that there were some comments in there about his well being and he wanted to possibly take his own life," Cummings said.
Ciancia was not home when officers arrived.
"Basically, there were two roommates there," Cummings told the Associated Press. "They said, 'We saw him yesterday and he was fine.'"
It is not clear if police arrived before or after the shooting at LAX.
Ciancia graduated in 2008 from Salesianum School, an all-boys Roman Catholic school in Wilmington, Delaware.
It was not immediately clear how long Ciancia had lived in Los Angeles or why he moved to the area.
In texts to his brother and father, Ciancia said he was unhappy and discouraged living in Los Angeles.