This is an archived article and the information in the article may be outdated. Please look at the time stamp on the story to see when it was last updated.
LOS ANGELES (KTLA) — Actor Kyle Massey is speaking out, shooting down rumors that circulated online that he was dying of cancer.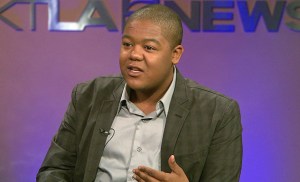 The cancer hoax exploded on Twitter Saturday night. At one point, it was even a trending topic worldwide.
At the time, the former "Dancing With the Stars Contestant," and Disney Channel star, 21, was climbing Mt. Kilimanjaro with Ray Lewis to raise money for charity.
"Basically I woke up to just a slew of text messages, calls, voicemails and tweets," Massey said in an interview on the KTLA Morning News.
"Everyone's just telling me that there's this rumor going around that I'm dying of cancer… and that I decided to tell the world because I'm on my way out or something."
"You can't just make stuff up like that about people," Massey said. "It's more than just, you know, he's kissing this girl. This is serious."
He said his family was "furious" over the rumors, which genuinely worried people close to him.
"I've had family members pass away of cancer," Massey said. "I lost two uncles to cancer, my granddad has cancer now."
The fake news item surfaced at the same time as news of the acquittal of George Zimmerman and the death of "Glee" star Cory Monteith.
"The reason it was so believable is because it was sandwiched between the truth," he said. "The 'Glee' star did pass away, Zimmerman was found innocent."
Massey said he appreciates all the support and love from his friends and fans, but that he's doing just fine.
He said that he's been working out, and actually lost weight recently preparing for the Mt. Kilimanjaro climb.
He's getting ready to start filming a new movie in Chicago in a few weeks.
"You have to really be careful with what you see and read because you can't believe it all," he said.