This is an archived article and the information in the article may be outdated. Please look at the time stamp on the story to see when it was last updated.
PALMDALE, Calif. (KTLA) — A Palmdale woman pleaded not guilty to two counts each of child abuse, torture, assault with a deadly weapon in the alleged torture of her 2 adopted children.
The case came to light when adoptive mother 50-year old Ingrid Brewer reported the 8-year old boy and his 7-year old sister missing.
Deputies eventually located the children lying under a blanket near a parked vehicle on a street near their residence.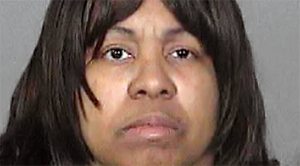 Neither child had any type of winter clothing on, despite temperatures in the mid 20s.
The children told deputies that they had run away from home because they were tired of being tied up and beaten by Brewer.
The children disclosed that when she left for work each day, Brewer would lock each of them inside their bedrooms, separate from each other.
The children were forced to use waste baskets in their bedrooms when they needed to go to the bathroom.
Both children disclosed that on numerous occasions, Brewer would zip-tie their hands behind their backs and beat them as punishment.
The children also said they were hit with electrical cords and a hammer. Both children were also deprived of food.
Deputies say the children had injuries on their bodies that were consistent with the alleged abuse, including marks that indicated that their wrists had been restrained with a zip-tie type restraint.
The kids were home schooled, so their were no school officials to report the crimes, police said.
Brewer was arrested and is being held on $2 million bail.
She is due back in court January 31 for a preliminary hearing.
The children are now in protective custody with a foster family.
It is not clear whether the children were adopted through a public or private process.
But the head of the county's child protective agency said Thursday he would personally investigate the case.
"I am personally looking into this situation to determine what role, if any, our department had in these children's lives," Philip Browning, director of the Department of Children and Family Services, said in a statement.