This is an archived article and the information in the article may be outdated. Please look at the time stamp on the story to see when it was last updated.
A line of government officials spent Tuesday evening reassuring Santa Barbara residents that an army of workers, dump trucks and excavators was working to return their battered community to normal, though it may take some time.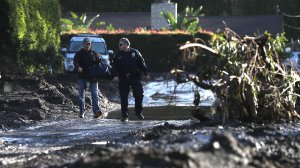 The community meeting at a local junior high school came ahead of possible rains on Thursday, which are expected to drop just 0.1 to 0.2 inches of water in the area. While California Department of Forestry and Fire Protection officials said Tuesday the rain could slow cleanup efforts and impact an already-destroyed landscape, those leading the meeting struck a more hopeful tone.
"This rain will give us the first test, but we believe the creek systems can handle this next rain," Tom Fayram, the deputy public works director for Santa Barbara County, said in a community meeting Tuesday.
He said that workers have made good progress clearing debris out of creek channels that run down the steep hills above Montecito, opening the channels so rainwater can run down the creek beds and not into the streets. The rain is not expected to be significant and "may actually be beneficial" because it will test how well workers have cleared the channels of debris, he added.
Santa Barbara County firefighters and rescue personnel get a standing ovation at a community meeting in Santa Barbara. #805strong #MontecitoFlood pic.twitter.com/GkGnKw7dVI

— Javier Panzar 🦅 (@jpanzar) January 17, 2018
Read the full story on LATimes.com.