This is an archived article and the information in the article may be outdated. Please look at the time stamp on the story to see when it was last updated.
Several agencies teamed up in South El Monte on Thursday to clear out a homeless camp built alongside the San Gabriel River that officials said was not safe for the transients that were living there or the residents living in a nearby neighborhood.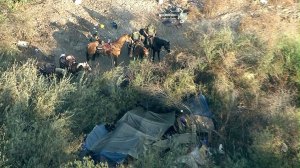 As many as 60 people were living in the encampment, some in fairly sophisticated shelters, according to authorities.
"This gentleman had a desk and a chair and he had a gas generator, and then another storage room. Essentially a three-bedroom apartment he dug into the ground," Capt. Chris Nee of the Los Angeles County Sheriff's Department said.
Investigators had to enter the living spaces with caution as some were apparently set up with booby traps.
"Some that included shot-gun shells that were set up via tripwire and could detonate," Nee said.
One person was cited by sheriff's deputies, but it was unclear why.
"The ultimate goal of this operation is to identify/address any illegal activity, provide social service to those in need and secure the location for the physical cleanup," the Los Angeles County Sheriff's Department announced in a news release.
Those who volunteered for assistance were to be provided transportation to the appropriate program, according to the release.
Some of the agencies assisting the sheriff's department in the operation included the El Monte Police Department, Department of Social Services, Department of Mental Health and the Department of Animal Care and Control.
The physical clean-up was expected to be done by the Department of Public Works as well as the U.S. Army Corps of Engineers.