This is an archived article and the information in the article may be outdated. Please look at the time stamp on the story to see when it was last updated.
LOS ANGELES — Two ferocious storm systems are expected to converge across the Northeast on Friday — and spawn travel nightmares for a large swath of the country.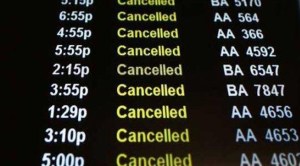 A wet subtropical system rising from the Gulf Coast will collide with a polar front rolling in from the Midwest to produce a potentially historic winter storm.
Transportation outlets were announcing shutdowns in the air and on land ahead of the storm's arrival.
Airlines have already canceled more than 3,500 flights to and from the affected region, and Amtrak has canceled many trips in the Northeast corridor.
At least 50 arriving and departing flights have been canceled for Friday at Los Angeles International Airport,according to flight tracking website FlightAware.
Most of the affected flights early Friday were to New York-area airports like JFK and LaGuardia.
Many airlines have announced they will waive the fees they normally charge to rebook a flight with a non-refundable ticket.
The latest forecast suggests that the worst of the weather could hit Boston, from about 5 p.m. Friday until Saturday morning, and bring in just under two feet of snow.
All cars and trucks, except emergency vehicles, must be off Massachusetts roads by 4 p.m. Light to moderate accumulations will continue through Saturday evening.
In New York, the heaviest snowfall is expected to start falling at 7 p.m. Friday, with accumulations of up to about a foot.
The storm is on a trajectory reminiscent of the path that Superstorm Sandy took, but will also include areas farther north.
The blizzard is predicted to blanket places where Sandy left behind the deepest scars — from the New Jersey shoreline through the boroughs of New York City and Connecticut.
Forecasts say the heaviest snowfall will extend into eastern Massachusetts, Connecticut and Rhode Island, and governors in all three states have declared states of emergency.
Power companies and public works are shoring up their resources, and some states have closed public schools.
The National Weather Service has predicted widespread white-out conditions that will impede drivers' visibility.
Boston could see snow falling at a rate of two to three inches per hour, and the storm has already drawn comparisons to the Great Blizzard of 1978.
Thousands of people were stranded as fast-moving snowdrifts blanketed highways and left several people dead.
This storm is predicted to dump about 29 inches on Boston in one day. The Great Blizzard dumped 27 inches on its worst day, but it hovered over the area longer than this storm is expected to.
The rest of New England will see heavy snow into Saturday, the National Weather Service said, which could reach blizzard intensity in places.
Residents from New Jersey to Maine probably will be digging themselves out of a foot or so of snow, the National Weather Service predicts, with more than 2½ feet falling in some spots.
Snowfalls could last as long as 36 hours in some areas, breaking local accumulation records.
The weather service expects the storm to fling heavy snow across the Great Lakes as far away as Michigan and Wisconsin.
High winds will whip up waves along the Atlantic Coast, triggering small-craft advisories as far south as Georgia, the National Weather Service said.
Hurricane-force winds are predicted to churn up offshore maritime tempests — particularly from New Jersey to Massachusetts — with waves cresting at up to 30 feet at the height of the storm.
Coastal flooding is possible "from Boston northward," the weather service said. But on Long Island, power companies are also warning that the Atlantic's waters could come ashore there, too.
The combination of snow and gusts as high as 60 to 75 mph will also knock out electric power, the National Weather Service said.
After Superstorm Sandy left much of Long Island without power for days, power company National Grid is working to prevent a second act to that tragedy.
It is adding hundreds of extra crew members to more than 500 linemen already on site for the Long Island Power Authority.
The storm could cut power to more than 100,000 customers on Long Island alone, National Grid said.
-CNN