This is an archived article and the information in the article may be outdated. Please look at the time stamp on the story to see when it was last updated.
For the second time in less than two months, Albertsons was warning shoppers in Southern California and several other states that the card system at some of its stores may have been hacked, potentially compromising the personal information of numerous customers.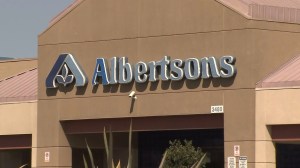 Company officials announced the latest breach Monday, stating that they were recently notified by its third party IT services provider about malware that had been installed on the supermarket chain's card payment system.
Several other stores operating under Albertsons parents company AB Acquisition LLC may have also been impacted, including ACME Markets, Jewel-Osco, and Shaw's and Star Markets.
The latest incident occurred between late August and early September and impacted stores in a number of states, including California, Idaho, Montana, North Dakota, Nevada, Oregon, Washington, Wyoming and Utah, an Albertsons news release stated.
It followed the possible hack that the company announced on Aug. 14., which affected some 180 stores in Southern California.
The new malware may have captured shopper's personal card information, including account numbers, expiration dates, cardholder names and other information, according to the release.
However, it was not immediately clear whether any payment card data was stolen in either of the incidents.
Measures were being taken to prevent further hacks and enhance customer payment card data protection, the release stated.
"We take our responsibility to protect our customers' payment card data seriously," Bob Miller, the chief executive officer of AB Acquisition LLC, said in the release "We are taking appropriate measures to enhance the protection of our customers' payment card data. We are working closely with all parties on the investigation into this incident."
Although Albertsons had not determined whether any personal information was obtained in the latest hack, customers who may have been affected were being offered 12 months of complimentary identity protection services through AllClear ID.
Anyone who shopped at the store between Aug. 27 and Sept. 21 was asked to visit www.albertsons.com or call AllClear ID at 1-855-865-4449 for more information about the service.