This is an archived article and the information in the article may be outdated. Please look at the time stamp on the story to see when it was last updated.
Two children and their father were hospitalized after an alleged DUI driver backed into them in the parking lot of a Panorama City Wal-Mart on Tuesday, authorities said.
The father and his son were in critical condition, while a daughter was in fair condition, according to police.
It was the girl's birthday and her father was taking her to get a present, the children's grandfather said.
"It was her birthday today — something she will probably remember for the rest of her life," Daniel Baldonado said.
Seven-year-old Matthew, 9-year-old Daniela and their father Henry Principe, 37, were injured, Baldonado said.
"There was a guy who started squealing, going backwards … My granddaughter saw him coming, and my son pushed Daniela out of the way," Baldonado said. "My son tried to save Matthew also, but the car hit him and he was dragged under the car."
The boy had a fractured jaw and torn liver, Baldonado said.
"When I saw him, I broke down in tears," Baldonado said. "I told him, 'Now grandpa is going to have to buy you a lot of toys.' He kind of smiled."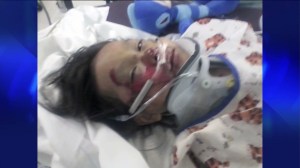 The crash occurred in the 14500 block of Roscoe Boulevard (map) at about 11:15 a.m., Main said.
The driver was transported to the hospital for an unrelated problem, according to Los Angeles police Sgt. David Delgado of Valley Traffic Division. He was likely to be arrested for DUI once he is released from the hospital, Delgado said.
He was later identified by police as 49-year-old Felipe Perez of Panorama City. According to inmate records, he was arrested on Feb. 13, also by Valley Traffic Division.
Police said Perez had a prior conviction for DUI in 2002.
Perez was booked just after 2:30 p.m. and was being held on $100,000 bail, according to online county inmate records.
His vehicle had backed up into some parked cars, pushing those vehicles into another car, then continuing to hit other cars before hitting the family, LAPD Capt. Maureen Ryan said.
Multiple cars had damage in the parking lot, video from the scene showed.
Blood was left on the ground at the collision site, which police said involved a Toyota 4Runner.
KTLA's Liberte Chan contributed to this article.