This is an archived article and the information in the article may be outdated. Please look at the time stamp on the story to see when it was last updated.
The 23-year-old suspect in a fatal LAX shooting spree that left international travel in chaos and passengers terrified pleaded not guilty to charges of murder and other crimes at a brief hearing Thursday at a Rancho Cucamonga jail.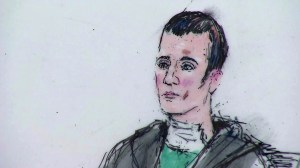 Paul Ciancia, accused of targeting TSA agents with a semiautomatic rifle and killing one officer, appeared at West Valley Detention Center, a San Bernardino County jail facility about 45 miles east of Los Angeles where he had been held since being released from the hospital last month.
Ciancia was indicted Dec. 17 by a federal grand jury on 11 counts: one count of premeditated murder of a federal officer, two counts of attempted murder of a federal officer, four counts of violence at an international airport, one count of use of a firearm causing death, and three counts of use of a firearm during a violent crime.
Ciancia entered his not guilty plea at Thursday's 11 a.m. hearing, which latest just a few minutes. A trial date was scheduled for Feb. 11, with a status conference in downtown Los Angeles set fo Jan. 27, according to the pool reporter at the hearing.
No cameras were permitted inside the hearing room, but the handful of reporters who were allowed inside described Ciancia as slight. His defense attorneys said he was 5 foot 3 inches tall, weighing 110 pounds.
He spoke in a hoarse voice and repeatedly touched a new bandage around his neck.
At an initial appearance at the jail on Dec. 4, Ciancia was deemed a flight risk and a danger to the community by U.S. Magistrate Judge David T. Bristow. Ciancia, who at that time appeared to have marks and scars on his face and wore a bandage that looked like one given to tracheotomy patients, was ordered held.
Ciancia allegedly opened fire in Terminal 3 of Los Angeles International Airport on Nov. 1, killing Transportation Security Administration officer Gerardo I. Hernandez and injuring several others.
Hernandez was the first TSA officer to die in the line of duty since the agency was founded in the wake of the 9/11 terrorist attacks.
According to the indictment, Ciancia also allegedly shot at TSA officers Tony Leroy Grigsby and James Maurice Speer, as well as Brian Donovan Ludmer, a Calabasas teacher.
Ciancia was shot in the face by responding airport police and taken to the hospital in critical condition.
A New Jersey native who had been living in the L.A. neighborhood of Sun Valley, Ciancia was believed to have acted alone.
In the bag that held the firearm used in the attack, investigators found a hand-written note that described animosity toward the TSA and intent to "instill fear in your traitorous minds," according to court documents.
If convicted, Ciancia faces either life in prison or the death penalty, if Attorney General Eric Holder decides to make the prosecution a capital case, according to Thom Mrozek, a spokesman for the U.S. Attorney's Office for the Central District of California.