This is an archived article and the information in the article may be outdated. Please look at the time stamp on the story to see when it was last updated.
The reported theft of parts used to build AR-15 rifles from a manufacturer in Castaic led authorities to an alleged police impersonator with a huge arsenal of weapons stashed in his Simi Valley home, according to the L.A. County Sheriff's Department.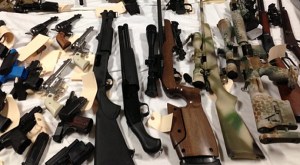 The investigation began on Sept. 5 when deputies responded to a call from a firearms manufacturer in Castaic reporting the theft of two brand new upper receivers, used to build AR-15 rifles.
Detectives investigating the case later identified 37-year-old Jeffrey Edmonds as the man responsible for the theft.
During a search of Edmonds home detectives found the alleged stolen upper receivers along with a large quantity of ammunition, numerous firearms including handguns and rifles, and illegal assault weapons as well as a counterfeit LAPD Captain's badge and identification.
"Our detectives also recovered a flash bang grenade, a CS gas grenade, bullet-proof vests, ballistic helmets and other tactical types of equipment," Deputy Joshua Dubin said.
Edmonds was arrested and booked suspicion of grand theft, impersonating a peace officer, and weapons violations.
He is being held on $250,000 bail.