This is an archived article and the information in the article may be outdated. Please look at the time stamp on the story to see when it was last updated.
Amane Gobena of Ethiopia won the women's race and Gebo Burka of Ethiopia won the men's race in the 29th Asics L.A. Marathon.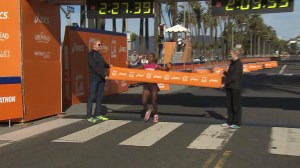 Gobena, 31, won in 2 hours 27 minutes 37 seconds, collecting $25,000 for the victory.
Burka, 26, clocked a 2:10:37 to win a marathon for the first time. He also won $25,000.
Gobena won $50,000 for winning the gender "challenge." The women were given a 17:41 head start and Gobena finished 41 seconds ahead of Burka.
Click here to read the full story on LATimes.com.