This is an archived article and the information in the article may be outdated. Please look at the time stamp on the story to see when it was last updated.
UPDATE: The four children who were the subject of an Amber Alert were found Tuesday at the California-Mexico border. Their parents were still being sought. Details here.
An Amber Alert remained in effect Saturday evening after four children were reported missing from their grandmother's home in Boyle Heights, authorities said.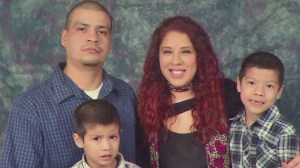 The children were first reported missing Friday around 12:30 p.m., after their mother, Rosa Chairez, and father, Enrique Felix, removed them from the home, according to the Los Angeles Police Department.
The California Highway Patrol issued an Amber Alert around 5 a.m. Saturday.
The Department of Children and Family Services had removed the children from their biological parents and placed them in protective custody with the maternal grandmother.
The parents had been ordered to stay away from the children and were to only have supervised visitation in the presence of social workers.
The father was last seen driving away with Chairez and the four children in the 1400 block of North Indiana Street (map), police said.
The vehicle was described as a dark or black-colored PT Cruiser, with a missing right rear hubcap.  It has white paper plates with black lettering.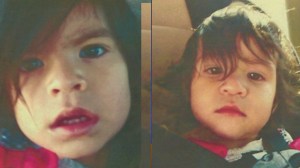 Felix, 28, was described as Hispanic with black hair, brown eyes, standing 5 feet 10 inches tall and weighing around 220 pounds.
Chairez has red hair and brown eyes.  She is 5 feet 2 inches tall and weighs around 150 pounds.
Felix was reported to be physically violent towards Rosa Chairez and their children, police said.
Anyone with information was asked to contact LAPD Hollenbeck detectives at (323) 342-8900. During non-business hours or on weekends, calls should be directed to 1-877-LAPD-24-7 (877-527-3247). Anyone wishing to remain anonymous should call Crime Stoppers at 1-800-222-TIPS (800-222-8477). Tipsters may also contact Crime Stoppers by texting to phone number 274637 (C-R-I-M-E-S on most keypads) with a cell phone. All text messages should begin with the letters "LAPD." Tipsters may also go to LAPDOnline.org, click on "webtips" and follow the prompts.
Description of Children:
Janet Felix, 1, black hair, brown eyes, 2 feet tall, approximately 20 pounds.
Veronica Felix, 1, black hair, brown eyes, 2 feet tall, approximately 20 pounds.
Justin Felix, 5, black hair, brown eyes, 3 feet tall, approximately 50 pounds.
Enrique Felix, 7, brown hair, brown eyes, 4 feet tall, approximately 70 pounds.