This is an archived article and the information in the article may be outdated. Please look at the time stamp on the story to see when it was last updated.
Merrill Newman, an 85-year-old American who spent weeks detained in North Korea, returned to the United States on Saturday, authorities said.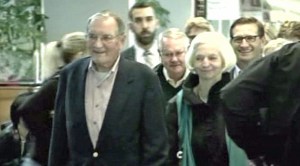 Newman arrived on a flight at San Francisco International Airport just after 9:00 a.m.
The Palo Alto man briefly spoke after leaving the plane.
"It's been a great homecoming," Newman told a crowd of reporters and well-wishers.
He went on to thank American and Swedish diplomats who worked to secure his release.
Then he told reporters, "I'm tired … ready to be with my family now. Thank you all for the support we got, very much appreciated."
Newman's son announced late Friday that his father was on his way home, around the same time that North Korea's state news agency KCNA said the 85-year-old had been "deported."
The Korean War veteran was on an organized tour of North Korea when he was pulled off a plane in Pyongyang on October 26, just minutes before it was scheduled to depart, his son Jeff Newman told CNN.
Last month, Newman "apologized" for his actions, including for killing troops and civilians during the Korean War, North Korea's state-run news agency reported.
He was videotaped reading from an awkwardly worded statement that was posted on the Internet.
"After I killed so many civilians and (North Korean) soldiers and destroyed strategic objects in the DPRK during the Korean War, I committed indelible offensive acts against the DPRK government and Korean people," Newman said.
CNN contributed to this report.