This is an archived article and the information in the article may be outdated. Please look at the time stamp on the story to see when it was last updated.
Bruno, a dog with the Anaheim Police Department's K-9 unit, was recovering after being shot during an incident on Thursday.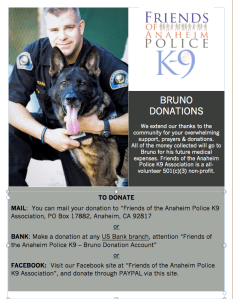 The department urged anyone who would like to donate to Bruno's care to visit the Friends of the Anaheim Police K9 Association on Facebook.
The Facebook page includes a PayPal link for donations, as well as instructions on how to contribute by mail or at any U.S. Bank branch.