This is an archived article and the information in the article may be outdated. Please look at the time stamp on the story to see when it was last updated.
Bruno's recovery has been turbulent but the police K-9's condition was reported to be stable and improving on Saturday, according to the Yorba Regional Animal Hospital.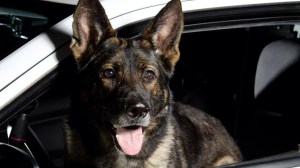 Bruno was shot in the face on March 20 after he found a gunman hiding near a trash can, according to Anaheim Police Department Lt. Tim Schmidt.
The incident left his jaw shattered, his lung damaged and a bullet lodged close to his heart.
He has undergone multiple surgeries at the hospital since, and was improving until he "took a serious turn for the worst" late Tuesday after developing a life-threatening problem called gastric bloat, a post on the animal hospital's Facebook page said.
But four days later,  the hospital reported that Bruno was "stable and doing very well" in a Saturday Facebook post.
Although his jaw was being held together by pins and a cementitious bar, Bruno was slowly improving his ability to eat and drink on his own and was taking oral medication, according to the post.
"Providing any new developments Bruno is out of danger and now just needs time to heal," the post stated.
#K9Bruno is "healing at an amazing rate" say his doctors. Still a long road of recovery ahead.Thanks for the support. pic.twitter.com/1If2txDw36

— Anaheim PD (@AnaheimPD) April 4, 2014
Video: #K9Bruno and Ofc Young earlier this week. He's a fighter! http://t.co/T2k9rFCjSL

— Anaheim PD (@AnaheimPD) April 4, 2014