This is an archived article and the information in the article may be outdated. Please look at the time stamp on the story to see when it was last updated.
Bruno, the police K-9 who was shot in the face during a confrontation in Anaheim, underwent additional surgery on Friday, and the operation was declared a success.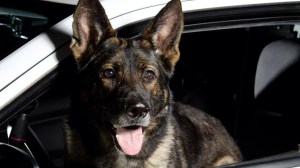 The 7-year-old German shepherd had a follow-up operation after having his jaw shattered, his lung damaged and a bullet lodged close to his heart.
"It was a very successful surgery," said Anaheim police Lt. Tim Schmidt. "They took his breathing tube out, and he's healing exactly (the) way they want him to."
Surgeons reattached the bottom portion of Bruno's tongue, allowing him to eat and drink better, and removed his breathing tube, Schmidt said in an Anaheim Police Department blog post.
Bruno was injured in a March 20 shootout that followed a routine probation check. A man who allegedly fired on police and then ran was located by Bruno, who accompanied a SWAT team.
The man, identified as 21-year-old Robert Moreno Jr., fired at Bruno and the officers, according to a police spokesman. Moreno was shot dead by officers.
Moreno was a gang member who had been released from prison 10 days earlier, according to an earlier police blog post.
Bruno has remained in critical condition since the shooting, and he was not likely to return to work, according to police. The dog's case has generated national interest even as few additional details have emerged about the police shooting and some have protested that Moreno's death has been overshadowed by Bruno's injuries.
Police, a counselor, an Orange County District Attorney's Office investigator and a coroner's official met with Moreno's mother and aunt for about an hour on Friday morning, police said.
After the shooting, the image of Bruno's wounded face was "burned into" the mind of his partner, Officer R.J. Young.
"It looked like half his face was gone. It was horrible," Young recalled in an interview Wednesday.
Bruno lives with Young's family and "watches over" the 3-month-old daughter Young has with his wife Rachel.
"It's so hard to see this dog, so full energy and life all the time, laying there so helpless," Rachel Young said. "It's tough."
But Bruno is a fighter, according to Dr. Steve Dunbar of the Yorba Regional Animal Hospital, where the dog was being treated.
"He doesn't understand why he's down in this pen and he can't get out and go to work," Dunbar said Friday. "If he sees a police officer, he howls and whines and wants to get right up and go back to work, even within days of this trauma."
In an update on Bruno's condition posted on Facebook Thursday evening, Dunbar said Bruno's IV had been removed.
"He dearly wants to eat his food on his own," Dunbar said. "He doesn't like us helping him; he's a do-it-myself type of guy."
The dog had been expected to get additional reconstructive work on his jaw Friday as well as surgery to examine his lung, Anaheim police said on Twitter Thursday afternoon.
https://www.facebook.com/photo.php?fbid=10152299765814614&set=a.440942949613.222741.72391084613&type=1&stream_ref=10