This is an archived article and the information in the article may be outdated. Please look at the time stamp on the story to see when it was last updated.
A waitress at Acabar in West Hollywood said she felt like she won the lottery on Saturday — and she joined a growing cadre of lucky service workers who have benefited from mysteriously large gratuities.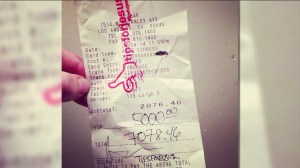 "It was a $5,000 tip," said the young woman, who gave her name as Leigh D. "I was like, 'Oh my God, yes!'"
A day later, Brian Kennedy, a bartender at West Hollywood's Pearl, was stunned by the same generosity. He received $4,000.
Leigh and Brian said they split the tips with their colleagues and will put the rest to good use. Brian said the cash will help pay for dental school applications and Leigh, similarly, said the money will go toward her law school applications.
In both cases, the receipts were stamped with the now-familiar "Tips for Jesus."
The anonymous benefactor has been spreading the wealth from coast to coast since at least September with tips ranging from $100 to $10,000.
Various media outlets have reported that the generous donor may be former PayPal executive Jack Selby.
Leigh said she served two young men who had a few beers and dessert and then bought bottles for others at Acabar — but they asked to remain anonymous.
"They didn't tell me why they do this, but I guess it's just out of the goodness of their hearts," Leigh said.