This is an archived article and the information in the article may be outdated. Please look at the time stamp on the story to see when it was last updated.
Another aging natural gas well at the Aliso Canyon storage field above Porter Ranch was found to have a leak over the weekend.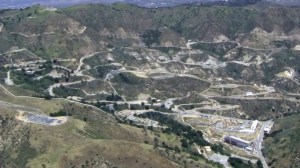 Southern California Gas Co., which spent months working to shut down a leaking well that prompted thousands of residents to relocate, told customers about the leak in a brief email.
A third-party company operates the well, said SoCal Gas, which provided a link to an incident report from the California Governor's Office of Emergency Services.
The report stated that the leak at the well, described as Standard Sesnon 1-21, occurred at 8:30 a.m. Saturday, April 16. The leak was initially described this way:
Third Party natural gas leak of unknown quantities and less than 30 gallons of oil spay released outside of containment. Liquid spray has been stopped and no liquid flow. Residual gas at a pumper (P-21) continues to be released.
Gas release was stopped by 10:25 a.m., with less than 50 gallons spewed outside of containment, the report stated.
State records indicate the well operator is Denver-based Crimson Resource Management Corp., which also has offices in Bakersfield.
A spokesman for Crimson Resource Management told the Los Angeles Daily News that the leak was a "very small event" that was fixed with a "very minor repair."
The South Coast Air Quality Management District, the region's air regulator, responded, the newspaper reported.
"There's no concern for public health because … it appears the leak has been contained," an AQMD spokesman told the paper.
Last week, AQMD responded to the area after Porter Ranch residents complained of again smelling natural gas.
On Monday, local activists were upset about the new leak, and they continued calls for Aliso Canyon to be completely shut down.
"We call it 'methane mountain.' It's a dinosaur," said Jennifer Milbauer of the group Save Porter Ranch. "It's decrepit, it's decaying. It has no business being next to a community."
The group's co-founder, Matt Pakucko, questioned if other leaks have gone unreported.
There are about 115 wells at SoCal Gas' massive Aliso Canyon facility in the Santa Susana Mountains. Standard Sesnon 1-21 began operation in 1953, according to state records.
Crimson Resource Management operates 12 wells at the site, records indicate.
The vast majority of the wells are run by SoCal Gas.
The major leak in the Gas Co. well -- Standard Sesnon 1-25, which was also drilled in 1953 -- was discovered Oct. 23, 2015, and finally capped on Feb. 18.
It spewed huge amounts of polluting methane into the atmosphere, and was the largest known such leak in U.S. history. The leak has prompted legislation and multiple lawsuits.