This is an archived article and the information in the article may be outdated. Please look at the time stamp on the story to see when it was last updated.
The family of a Los Angeles student killed last month when the charter bus he was in was hit by a FedEx truck in Orland, Calif., is filing a wrongful death lawsuit.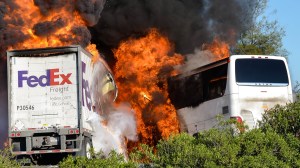 Ismael Jimenez, 18, was among 10 people killed April 10 when a FedEx truck on southbound Interstate 5 crossed the highway into oncoming traffic and slammed head-on into the charter bus that was carrying students headed to Humboldt State University for a weekend tour.
Jimenez, an aspiring artist, died at the front of the bus while helping other passengers escape the smoke and flames, witnesses said.
In the lawsuit to be filed Tuesday in Los Angeles County, Jimenez's family lays blame for the crash on the FedEx truck, its manufacturer, Volvo, and its driver, who was among those killed. The charter bus company, Silverado Stages, is also named in the suit.
Click here to read the full story on LATimes.com.