This is an archived article and the information in the article may be outdated. Please look at the time stamp on the story to see when it was last updated.
A proposed ordinance that would have made Carson the first city in California to outlaw bullying was defeated during Tuesday's City Council meeting.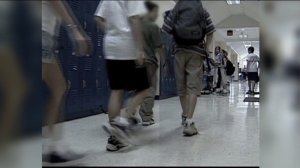 The law, sponsored by Councilman Mike Gipson, was introduced in part because of widespread bullying and cyberbullying that, in some instances, has led teenagers to commit suicide.
The council voted against the measure by a vote of 3 to 2, according to Margie Revilla-Garcia, spokeswoman for the city.
In a subsequent vote, councilmembers approved the funding of an anti-bullying campaign, Revilla-Garcia said. City staff were instructed to draft a plan for a related forum and report back to the council within 60 to 90 days.
Before the vote, Gipson said it was important for the city to get involved in protecting children from bullying.
"We have young people that are committing suicide because they've been bullied in school," he said. "We're saying enough is enough and we're drawing the line in the sand in the city of Carson."
The anti-bullying ordinance would make it a crime to bully anyone between kindergarten age and 25 years old.
The proposal was given preliminary approval by the City Council on May 6. Tuesday's scheduled vote was for a second reading and adoption of the ordinance.
Bullying is defined in the ordinance as a "willful course of conduct which involves harassment," which in turn is defined as conduct or communication that would "cause a reasonable person to feel terrorized, frightened, intimidated, threatened, harassed or molested."
Those in violation would be pay a steep price.
The first and second bullying infractions would result in fines of $100 and $200 respectively, according to Gipson. The third offense would bring a misdemeanor charge with a fine of up to $500.
Enforcing officers could chose whether violators would be charged with an infraction or misdemeanor, according to the ordinance language.
Parents will be held liable and face the criminal charge if their children violate the ordinance, Gipson said.
"We're going to hold the parents to the standard that you have to parent your children," he said.
Under the ordinance, bullying has a very specific definition, and simply calling someone a name does not meet the criteria, according to Gipson.
"It is someone who intimidates, harasses, and terrorizes, physically and emotionally, another person. And when you meet that definition, you are a bully," he said.
The ordinance is "intended to fill the gap left in the California criminal justice system by criminalizing harassment that is engaged in willfully or intentionally and in a course of conduct that demonstrates an intent to harass or abuse or create an environment of terror to a particular minor," a city staff report stated.
Some residents, however, said they didn't agree that the issue of bullying should be legislated, and said that parents should be the ones responsible for managing their child's behavior.
"Kids at that age don't realize the consequences of their actions," resident Bryan Brown said. "You can't hold a 5-year0old child, or for that matter even a 10 or 11-year-old child, accountable for their actions. That's what their parents are for."
Opponents of the ordinance have also argued that one of the biggest problems with it is how it defines what constitutes bullying.
"I think it's absolutely ridiculous. I think that it's way too vague. I think that bullying in and of itself is way too vague," said Miesha Warren, a mother of three.
"I don't think you that you can legislate … how to treat people. That has to start at home," she added.
KTLA's Eric Spillman and John A. Moreno contributed to this report.