This is an archived article and the information in the article may be outdated. Please look at the time stamp on the story to see when it was last updated.
LOS ANGELES (KTLA) — At least 100 demonstrators marched to Pershing Square in Downtown Saturday to protest proposed U.S military action in Syria.
The demonstration was organized by several groups, including ANSWER LA, Arab Americans 4 Syria, National Lawyers Guild – Los Angeles, and Full Rights for Immigrants Coalition.
LAPD officers controlled traffic as the protesters marched through Downtown for about two hours.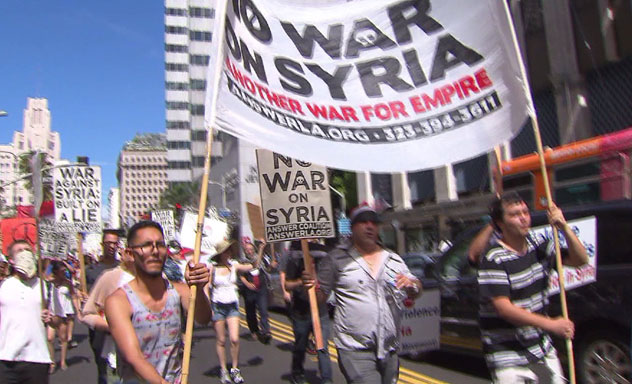 An attack on Syria would exacerbate the suffering of innocent citizens, according to people at the demonstration.
Any U.S. military action could lead to wider conflict and potentially encourage a strike on Israel, the protesters added.
Some of the protesters at Saturday's rally were supporters of Syrian President Bashar al-Assad.
Politicians were fabricating evidence of a chemical weapon attack by the Syrian government to justify U.S. involvement, the protesters said.
U.S. Secretary of State John Kerry said Friday that the al-Assad regime used nerve gas to kill more than 1,400 Syrians, including at least 426 children.
President Obama has said air strikes would be intended to deter Assad from using chemical weapons on his people again.