This is an archived article and the information in the article may be outdated. Please look at the time stamp on the story to see when it was last updated.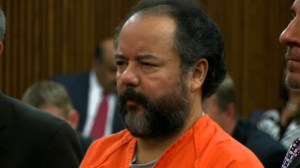 Cleveland kidnapper Ariel Castro may have died from autoerotic asphyxiation, according to a new report that also says guards falsified prison observation logs and made other mistakes while monitoring him before his Sept. 3 suicide.
Castro instantly became one of America's most notorious criminals in May after police discovered three young women who had been kidnapped, raped and held in his home for roughly a decade. His conviction, life sentence and even his death provoked little sympathy from a disgusted public.
Yet members of his family, who had denounced his crimes, also demanded that officials hold themselves accountable for Castro's safety in prison. An investigation of his death by the Ohio Department of Rehabilitation and Correction revealed Thursday that some guards did not make all of their required rounds and falsified reports to say that they did.  Two staff members have been put on leave as a result, the report said.
"Rounds were not properly completed. Post log books were falsified. There was no satisfactory verification process in place," the report said, noting that in the seven hours leading up to Castro's death, guards had apparently skipped eight of their half-hourly observations, according to video footage that was checked against guard logs.
Click here to read the full story at latimes.com.