This is an archived article and the information in the article may be outdated. Please look at the time stamp on the story to see when it was last updated.
HOLLYWOOD, Calif. (KTLA) — One of the alleged attackers in a brutal beating of a transgender woman in Hollywood was in custody Friday, police said.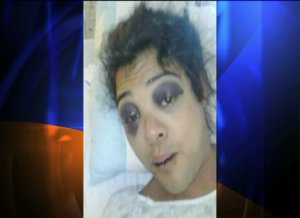 Nicol Shakhnazaryan, 21, of Los Angeles, was arrested Thursday in Van Nuys, according to the Los Angeles Police Department.
Shakhnazaryan was booked on felony battery charges. He was being held on $1,050,000 bail.
Vivian Diego, born Victor Diego, was attacked around 2:15 a.m. on May 31 near the Hollywood and Ivar Metro stop.
Diego had just left her job as a barista at Beso restaurant when she was attacked.
Surveillance video released by police on Tuesday showed four men approaching Diego from behind.
Another angle shows the men kicking Diego as she lay on the ground.
She suffered severe injuries to her face, head and ribs.
Police said the FBI was assisting them in their search for the other three alleged attackers.
A $25,000 reward was announced on Tuesday.
Police were investigating the attack as a hate crime.
Anyone with information about the attack was asked to call 213-972-2967 or email hollywoodcrimetips@gmail.com.