This is an archived article and the information in the article may be outdated. Please look at the time stamp on the story to see when it was last updated.
A group of veteran Asian-American San Gabriel Police Department officers plan Tuesday to file a lawsuit against their employer, alleging race-based harassment, discrimination, and retaliation within the department, which patrols a majority Asian city.
Allen Sam, Wei "Gilbert" Lee, Sunny Kim, Vy Van and Nhat Huynh have each served 10 to 14 years in the force, according to a news release from Alexander Krakow + Glick LLP, the Santa Monica law firm representing the officers.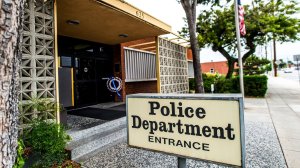 The allege police personnel routinely used racial slurs, mockingly spoke in accents and made disparaging comments about physical traits, foods and stereotypes associated with people of Asian descent, according to the statement.
The complaint said other officers, who were not of Asian descent, often pronounced Lee's first name as "Gilba" instead of "Gilbert" and Sam's name as "Aween" instead of "Allen." Nearly every time San Gabriel police were called to the scene of a car crash, the plaintiffs heard comments about "their people" being poor drivers, according to the complaint.
The department also promoted less qualified individuals over Asian-American officers, the release from the law firm alleged. According to the complaint, the plaintiffs were denied special tutoring and insight former Capt. Andrew Borello offered to other officers taking a promotional examination.
"Asian-Americans are under-represented in SGPD's leadership, with only one Asian-American lieutenant and one Asian-American sergeant," the statement said. "In the last 16 years, only one Asian-American SGPD officer has been promoted to lieutenant. No officer of Asian descent has ever served in the role of police chief (or) captain."
The plaintiffs alleged that it's common practice for department managers and officers to disparage San Gabriel residents based on stereotypes. The complaint states the Police Department management conduct includes "casually referring to community residents" by a racial slur.
Some 60.7 percent of the city's nearly 40,000 residents are Asian, according to data from the 2010 U.S. Census.
Sam, the lead plaintiff in the case, said those who spoke up about their concerns have been retaliated against.
"Our private complaints about this conduct have been ignored, in the same way that our contributions to the department have been disrespected in favor of the promotion of less qualified non-Asian officers," Sam said.
The lawsuit seeks in part to "end illegal practices" that create a "hostile work environment" in the department, and to end the alleged discrimination against Asian-American police officers. The 22-page complaint is being filed in Los Angeles Superior Court.
The city of San Gabriel has not received the lawsuit and therefore cannot provide a comment, city spokesman Jonathan Fu said Tuesday afternoon.
KTLA's Steve Bien contributed to this story.