This is an archived article and the information in the article may be outdated. Please look at the time stamp on the story to see when it was last updated.
Asiana Airlines will sue Bay Area television station KTVU-TV for using fake, racially insensitive names of pilots flying the ill-fated Asiana Airlines Flight 214, the Associated Press reported Monday.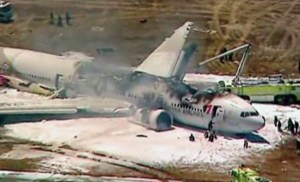 A spokeswoman for the South Korean airline, Lee Hyomin, said the broadcast seriously damaged Asiana's reputation and that it will sue the station to "strongly respond to its racially discriminatory report," according to the Associated Press. The suit will likely be filed in the United States, she said.
The KTVU segment that referred to the pilots by four false names, including "Capt. Sum Ting Wong" and "Wi Tu Lo," has gone viral and drawn heavy criticism on the Internet.
Two teenage girls from China were killed and more than 180 people were injured when the Boeing 777 clipped a sea wall and slammed into a runway July 6 at San Francisco International Airport. A third passenger, a girl, died of her wounds Friday.
Click here to read the full story at LATimes.com.