This is an archived article and the information in the article may be outdated. Please look at the time stamp on the story to see when it was last updated.
SAN FRANCISCO — The pilots flying the Asiana Airlines jetliner that crashed in San Francisco told federal investigators that an automatic throttle — a system akin to a car's cruise control — had failed to keep the jetliner at the proper speed for landing.
The Asiana pilots said in interviews with the National Transportation Safety Board that they had set the auto-throttles to maintain an air speed of 137 knots. That's a significantly faster speed than the plane actually achieved as it came in for its landing at San Francisco International Airport on Saturday.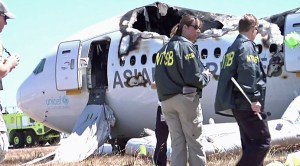 As the inquiry entered its fourth day, Deborah A.P. Hersman, chairwoman of the National Transportation Safety Board, said investigators were still trying to verify whether the throttles were properly activated.
The pilots' statements do not resolve the central question of why the Boeing 777's speed and altitude fell so far out of the normal range for landing at SFO before it hit a sea wall and crash-landed. But outside air safety experts said the statements suggest a risky reliance on technology when the flight crew should have been constantly monitoring the airplane's speed.
Click here to read the full story on LATimes.com.