This is an archived article and the information in the article may be outdated. Please look at the time stamp on the story to see when it was last updated.
A suspect in the brutal punching of a Lakewood gas station cashier over 41 cents has been arrested, authorities said Thursday.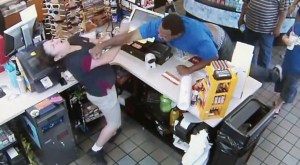 Kendrick Ruth, a 35-year-old Long Beach resident, was arrested Wednesday on suspicion of robbery and assault, the Los Angeles County Sheriff's Department's Lakewood Station announced.
Detectives had been searching for the attacker since his Sept. 7 assault, which occurred at a Chevron gas station on Lakewood Boulevard and was sparked by a dispute over the price of a cigar.
Surveillance video showed the man waiting in a long line inside the gas station at around 1:15 p.m.
When he reached the register, he asked the cashier — a 23-year-old female — for a $1.41 Swisher Sweet cigar, Lakewood sheriff's deputies said. The man only offered a dollar bill, and when the employee prompted him for the additional 41 cents, he began to argue and tried to grab the cigar from her hand.
When she asked the man to leave, he swung his fist over the counter and punched her across the face. The clerk suffered "severe injuries" as a result of the assault, sheriff's officials said Thursday.
Ruth was admitted to Men's Central Jail in downtown LA with bail set at $100,000. His arraignment is scheduled for Friday at Bellflower Superior Court.