This is an archived article and the information in the article may be outdated. Please look at the time stamp on the story to see when it was last updated.
A man who shot at police officers, leaving two wounded, was in custody Wednesday night after barricading himself for nearly nine hours with his girlfriend and her teen daughter inside an Inglewood home, authorities said.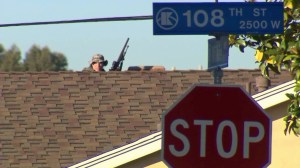 Multiple rounds were exchanged after officers responded to a "family disturbance," with the gunman first firing and then police returning fire, Inglewood police Lt. Oscar Mejia said at an afternoon news conference.
"It sounded like a war zone," witness Kimberly Edwards said.
A gunman has a criminal history and had held a woman believed to be his girlfriend and her 14-year-old daughter hostage in the home, Lt. Dave Dolson of the Los Angeles County Sheriff's Department said.
The gunman, whom authorities said would not be identified until he was booked, was in custody and the two hostages were safe, a spokesperson with the District Attorney's Office told KTLA at about 9:15 p.m., nearly nine hours after police first responded.
Two wounded officers were treated at Centinela Hospital Medical Center. One officer was released and the other, who was shot in the chest but was saved by his bulletproof vest, was later taken to another hospital.
A massive police response, including a SWAT team, swarmed the home near the intersection of 108th Street and Fifth Avenue (map). Streets were shut down as the standoff continued for hours, and area residents were first told to stay in their homes and then the residences were evacuated.
In what was described as a "very delicate situation," a crisis negotiation team had communicated with the armed man inside the home for hours, Dolson said at a news conference about 10:30 p.m. 
"Sometimes these things just take time. I guess finally the negotiators built trust with the suspect, and he felt he would be fairly treated," said Dolson, adding the man did not make any demands. "He did what we wanted him to do, exited the house with his arms in the air."
The teen girl who ran from the home was dragged back inside by the gunman, a witness said. That prompted the initial call to police, Dolson said.
Residents in the area were told not leave their homes until an officer or deputy came to help them evacuate the area, Mejia said. A nearby day care center was evacuated.
Although police originally indicated both officers had been shot, Inglewood police Capt. James Madia later said that only a responding male officer was struck by gunfire. He was wearing ballistic protection, Madia said.
"Before they could even get to the front door, they were under fire. The male officer was struck in the chest," Madia said. "He's got a significant injury to his chest, but he does not have a penetrating gunshot wound."
A female officer was injured slightly when she fell while trying to help her male colleague, Madia said.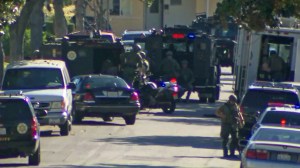 The area was described as quiet by a neighbor, who said she had never witnessed any trouble associated with the home where the alleged shooter was barricaded was.
The brother of the woman who lives in the home was yelled at police to get his sister out of the home, said Kimberly Edwards, who lives across the street.
"Terrified. I'm still terrified," Edwards said. "I just can't believe it. I think I'm in shock… We're working people and we're not used to this kind of thing. "
KTLA's Anthony Kurzweil and Melissa Pamer contributed to this report.