This is an archived article and the information in the article may be outdated. Please look at the time stamp on the story to see when it was last updated.
A tour bus collided with a big-rig early Tuesday morning in Tulare County, leaving at least 15 people injured, authorities said.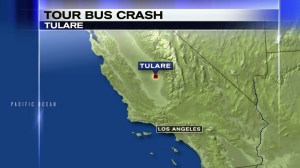 The collision occurred just before midnight on the northbound Highway 99 between the Paige and Bardsley in Tulare (map), according to the California Highway Patrol.
A preliminary investigation indicated the bus rear-ended the big-rig, the CHP said.
The tour bus was traveling from Los Angeles to Washington state.
There were more than 30 people on board the bus when the collision occurred, the CHP said.
At least 15 passengers were taken to area hospitals with minor injuries, and another 17 suffered bumps and bruises but did not need to go the hospital, according to the CHP.