This is an archived article and the information in the article may be outdated. Please look at the time stamp on the story to see when it was last updated.
Four people died Wednesday morning in a crash in Blythe (map) involving a big rig and a tour bus that was traveling from El Paso, Texas, to Los Angeles, shutting down the freeway in both directions for more than 12 hours, authorities said.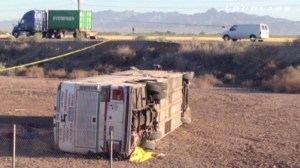 The incident began when a semi-truck carrying steel pipes and traveling eastbound on the 10 Freeway jackknifed about 2:15 a.m., spilling the pipes onto the eastbound and westbound lanes, said Terri Kasinga, spokeswoman for Caltrans.
A bus that was traveling westbound on the freeway overturned after swerving to avoid the debris, and may have struck some of the pipes, Kasinga said. The bus, which was carrying 32 passengers, came to a stop about 40 to 50 feet from the roadway's shoulder.
Several people were injured, some critically, according to authorities. Some of the bus passengers who were unhurt were transported from the scene.
The bus was operated by El-Paso Los Angeles Limousine Express Inc., according to the CHP. Federal records indicate that the transportation company has had no significant safety violations or vehicle maintenance issues in at least the last two years, The Times reported.
The 10 Freeway was shut down in both directions, said Officer Jason Girard, spokesman for the California Highway Patrol. Traffic in the area was being rerouted onto frontage roads near the freeway, he said.
One eastbound lane reopened by about 3:30 p.m., Caltrans said on Twitter. It was not known when other eastbound lanes or any westbound lanes would reopen, the agency said, adding that it was waiting for CHP.
The following detours were in effect, according to the agency:
Eastbound I-10: Use State Route 177 at Desert Center to State Route 62 and U.S. Route 95 to connect back to the 10 Freeway.
Westbound I-10: Use exit No. 1 just west of the state line. Turn right on Poston Road. Go northbound for about 30 miles. Turn left onto Agnes Wilson. Drive approximately 10 miles. Take U.S. Route 95 back to the 10 Freeway.
Blythe (RivCo): EB 10 lanes scheduled to open approximately 4 pm. WB 10 lanes opening time still undetermined

— Caltrans District 8 (@Caltrans8) May 21, 2014