This is an archived article and the information in the article may be outdated. Please look at the time stamp on the story to see when it was last updated.
At least 47 people were killed in a Lao Airlines plane crash in the southern Laotian province of Champasak on Wednesday afternoon, witnesses said, according to the country's national news agency, KPL.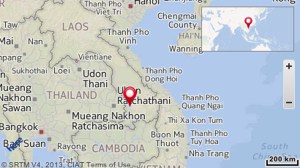 The plane was headed from the country's capital, Vientiane, to the provincial capital of Pakse, an official with the Thai Foreign Ministry said. The official, who did not want to be identified, said Thai nationals were among those on board.
Witnesses said bad weather appeared to be a factor in the crash of the ATR propeller aircraft, according to KPL.
Remnants of Typhoon Nari have been hitting the area. Pakse has received more than 3.9 inches of rain since Tuesday.
Click here to read the full story on CNN.com.