This is an archived article and the information in the article may be outdated. Please look at the time stamp on the story to see when it was last updated.
When Briana Clarke heard popping sounds on a Seattle college campus on Thursday, she thought the source must be something innocent — bursting balloons. Then she saw a classmate running frantically, saying someone had been shot.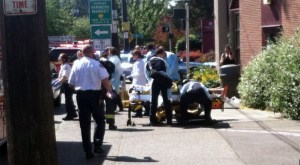 A gunman had opened fire at Seattle Pacific University, killing one person and wounding two more before he was tackled by a student security guard, Seattle police said.
The gunman was reloading a shotgun when the tackler, working as a building monitor, used pepper spray and knocked him down, Police Capt. Chris Fowler told reporters.
"Once on the ground, other students jumped on top of them and subdued the shooter," he said.
The suspect, 26-year-old Aaron Ybarra, is not a student at the school, police said.
They believe he acted alone, but the investigation is going on. Police did not disclose a motive.
Would have been worse
Clarke saw students covered in blood.
"When I walked outside and saw someone down, that was disturbing seeing a bunch of bullets around," she said. "Seeing my friend outside being treated, that's was hard to swallow."
The thought that she could have been a victim went through her head.
Police are convinced the shooter would have harmed more people, had those around him not intervened.
"This story is not about an evil act but about the people that actually lived through this scenario and assisted each other when things were pretty tragic." said Seattle police Asst. Chief Paul McDonagh.
The suspect was armed with a shotgun, a knife and additional rounds of ammunition, he said.
Pellet wounds
The shooting began inside the foyer of Otto Miller Hall, which houses the university's science, math and engineering departments, when the gunman confronted three people and shot them, Fowler said.
A 19-year-old man was declared dead at Harborview Medical Center. A 20-year-old woman was in critical condition and a 24-year-old man was in satisfactory condition, she said.
He suffered pellet wounds to the neck and chest, a police statement said. A fourth person was transported to the hospital with minor injuries.
Officials immediately locked down the campus.
Blood on floor and walls
University President Daniel J. Martin told CNN affiliate KCPQ he turned on a monitor to view security camera images from Otto Miller Hall after he was alerted to the shooting.
"The students acted without regard for their own safety," he said, his voice breaking with emotion.
Jillian Smith was taking a math test when she learned the campus was on lockdown. She said she kept taking the test until she heard police officers yelling.
"After we found out by social media what was going on, people were crying and everything," Smith told CNN affiliate KOMO.
Police escorted students out of the building, where she she saw blood on the floor and walls in the foyer.
Blake Oliveria was in a class when he heard the gunshots.
He said he removed his shoes in case he had to run but stayed in the classroom until police arrived to escort students out.
"I saw blood … on the ground," he told CNN. "There were two or three big (pools) and some small ones scattered throughout the hallway."
Questions
Mary Jones' daughter attends Seattle Pacific but was unharmed. Still, she wonders how safe colleges will be without laws regulating access to guns.
"Where are the controls to keep our children from purchasing a handgun or any other kind of weapon? And does that take government controls to keep that from happening? I don't know," she told KOMO. "There has to be a greater understanding of what that weapon can do and the pain it can inflict on another person's life."
Seattle Pacific is a Christian university with a student population of 4,270. It is located in Seattle's Queen Anne neighborhood. The school has canceled classes all day Friday, it said on its website.
.@SeattlePacific Otto Miller bldg secure. Lone Susp entered bldg, shot 4 vics, began reloading. Staff disarmed him. Gunman arrested

— Seattle Police Dept. (@SeattlePD) June 5, 2014
Confirmed 4 victims in @SeattlePacific shooting: 1 man 1 woman with life-threatening injuries; 1 man, 1 woman in stable condition

— Seattle Police Dept. (@SeattlePD) June 5, 2014
Re: shooting at Seattle Pacific University. The suspect is in custody. There are no outstanding suspects being sought.

— Seattle Police Dept. (@SeattlePD) June 5, 2014