This is an archived article and the information in the article may be outdated. Please look at the time stamp on the story to see when it was last updated.
Authorities have identified a Mission Viejo man who was killed Sunday when a car crashed into his house as he slept.
Kenneth Jackson, 60, was found dead after an automobile struck the home and came to rest inside, according to a news release issued by the Orange County coroner's office.
A 27-year-old suspected drunk driver was arrested Sunday in connection with the crash, which occurred around 2:45 a.m. in the 26000 block of Pacato Drive (map), according to the Orange County Sheriff's Department.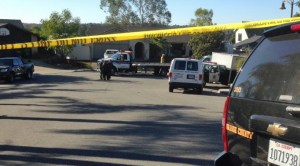 The Sheriff's Department released a photo of the man they said was behind the wheel, Kourosh Keshmiri of Mission Viejo.
The collission happened when a large Cadillac sedan failed to navigate a turn, lost control and slammed into the unidentified victim's bedroom, witnesses said.
It appeared the car landed on Jackson's bed as he slept, according to witnesses.
First responders "were looking for the resident that was asleep in the bedroom," said Lt. Steve Concialdi of the Orange County Fire Authority. "The force of this impact drove his bed into the bathroom. He was found underneath the vehicle."
The victim was pronounced dead at the scene, the Sheriff's Department said in a press release.
"He was a good guy," said Steve Otto, a friend of Jackson's and fellow motorcycle enthusiast. "He liked his bikes, and he had a lot of tight, close-knit friends. I know a lot of them are grieving tonight."
Keshmiri was booked for felony DUI and may face additional charges, according to the Sheriff's Department.
He has a prior misdemeanor DUI conviction from 2010 and a pending case from June 2013, the Sheriff's Department said.
Keshmiri's current driver's license is suspended from the pending June case, the press release said.
Video from the scene showed the car lodged in the house.
Jackson's roommate was not injured and gave investigators details on what happened.
Keshmiri and a passenger managed to get out of the car on their own after the collision, the Sheriff's Department said.
He had a bandage over his nose in his booking photo. But it was not clear if he suffered any other injuries.
Speed may have also been a factor in the crash, the Sheriff's Department said.