This is an archived article and the information in the article may be outdated. Please look at the time stamp on the story to see when it was last updated.
SANTA CLARITA, Calif. (KTLA) — Authorities involved in a high-speed pursuit with the driver of a possible stolen vehicle used the PIT maneuver to bring the chase to an end Wednesday.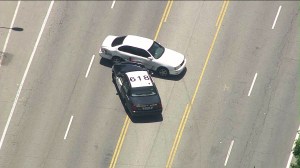 The pursuit began in the Santa Clarita area after a traffic stop at around 11:30 a.m., according to California Highway Patrol Officer Clive Sheen.
Authorities ran the vehicle's plates and discovered the car had been reported stolen, Sheen said.
That's when the driver of the vehicle took off and led authorities on a chase with speeds exceeding 100 mph.
The registered owner of the alleged stolen vehicle told authorities he was carjacked by a Hispanic man, Sheen said.
Authorities used the PIT maneuver to end the pursuit after the driver exited the 118 Freeway at Woodley Avenue.
The driver was taken into custody without further incident.