This is an archived article and the information in the article may be outdated. Please look at the time stamp on the story to see when it was last updated.
Authorities on Wednesday released a photo of one of several people suspected of vandalizing a Venice mural memorializing Vietnam War veterans in May.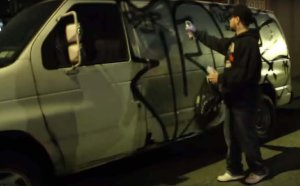 Investigators believe the man in the image is known by the moniker "NONER" and is connected to a tagging group in the San Francisco Bay Area, according to a news release from the Los Angeles County Sheriff's Department. The other vandals used the names "PHEB," "SNAKE" and "LITER," the statement said.
The damage to the wall, located behind a Metropolitan Transportation Authority building on Pacific Avenue, was initially noticed by residents shortly before Memorial Day. The mural, which includes the message "You Are Not Forgotten," features the names of 2,273 soldiers identified as either prisoners of war or missing in action in Vietnam.
The sheriff's Transit Policing Division launched an investigation, led by Detective Michael Thibodeau, a graffiti expert, after the damage was discovered.
"The person in the photo appears to be a male, white or Hispanic," the news release said, adding that the moniker "NONER" that the person is spraying on the side of a van seems to match one from the memorial wall.
The man may travel between the Los Angeles area and San Francisco Bay Area regularly, authorities said.
Anyone with information about the identity of "NONER" or any of the other monikers is asked to call Los Angeles County Sheriff's Department detectives at 888-950-7233.