This is an archived article and the information in the article may be outdated. Please look at the time stamp on the story to see when it was last updated.
The Santa Paula Animal Rescue Center was caring 17 dogs that were confiscated Tuesday from an alleged dog fighting ring.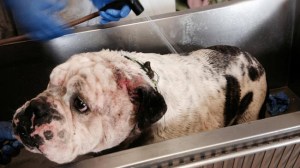 Authorities were called to a home in the 500 block of North 14th Street after reports of dogs fighting, according to a news release from the Santa Paula Police Department.
At the home, officers found evidence of dog breeding as well as evidence the dogs were being trained to fight, the release stated.
A resident of the home, identified as Silvano Moses Duran, 28, was arrested late Tuesday, police said.
The animals, many of whom were badly injured, were placed in the custody of the Santa Paula Animal Rescue Center, (SPARC), according to the rescue's Facebook page.
Among the most severely injured was a nursing mother, who underwent surgery for shock caused by blood loss, the rescue said.
Anyone wishing to donate to help the injured dogs was asked to contact the Santa Paula Animal Rescue Center at 705 E. Santa Barbara Street, Santa Paula, CA 93060.
Donations could also be made through paypal on the rescue's website www.sparcsaveslives.org.