This is an archived article and the information in the article may be outdated. Please look at the time stamp on the story to see when it was last updated.
A man was taken into custody by Orange County sheriff's deputies Tuesday afternoon following a pursuit in which he fled in a U-Haul truck, driving "erratically" in a chase involving two collisions before allegedly barricading himself inside a home in Santa Ana, O.C. Sheriff's Department officials said.
The man — described by authorities as white and in his 30s — allegedly led sheriff's deputies on a chase beginning around 12:15 p.m. and extending from San Clemente to Santa Ana, where they say he barricaded himself inside a home. After calling in SWAT officers, authorities were eventually able to apprehend the man after he was bitten by a K-9 unit, officials said about three and a half hours after the chase began.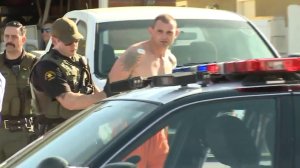 The pursuit started when the man was allegedly driving a motorcycle — which was later found to be stolen — in the area of El Portal and North El Camino Real in San Clemente, authorities said. Sheriff's deputies tried pulling him over but he handed them a license, which they're still not sure is fake or real, and then fled on foot.
After that, authorities said, the man somehow got into a U-Haul truck and drove away. It is unclear whether he had rented the vehicle or not.
Sheriff's deputies chased him along the northbound 5 Freeway in Dana Point to the 73 Freeway before switching onto the 55 Freeway, officials said. From there, he exited the freeway in Costa Mesa and started driving "erratically" — getting into two different crashes before he got out of the truck somewhere in Santa Ana, officials said in a tweet.
Sgt. Brian Sims described the chase as "extremely dangerous" and said the man's actions were "putting peoples' lives in jeopardy and causing traffic collisions."
The chase got so dangerous, according to law enforcement officials, that at some point they decided to stop pursuing him on the ground and had a helicopter track him.
#OCSDPIO Suspect apprehended by OCSD SWAT Tactical Support Element and K-9. He will be interviewed and assessed by medical personnel. Suspect ID will be released once he is booked at the OC Jail. pic.twitter.com/sJ8EZi002d

— OC Sheriff, CA (@OCSheriff) March 6, 2018
Some time later, while he was on foot in Santa Ana, the man went inside a home located in the 1800 block of West St. Anne Place, officials said. Santa Ana police and SWAT officers were then also dispatched to the scene to assist deputies in getting him out.
Eventually, a police dog was released into the home and found the man hiding under a mattress, officials said. The K-9 bit the man a few times before he was taken into custody.
The man will be interviewed and looked at by medical professionals and his identity is expected to be released once he is booked at Orange County Jail, sheriff's deputies tweeted.
No further information has been released by the O.C. Sheriff's Department.