This is an archived article and the information in the article may be outdated. Please look at the time stamp on the story to see when it was last updated.
OAKLAND — BART workers went on strike early Friday after a week of marathon negotiations failed to produce a settlement, causing difficulties for hundreds of thousands of Bay Area commuters.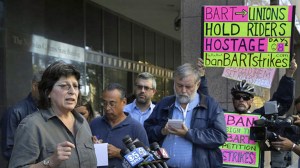 There are plans for enhanced bus and ferry service as well as expanded carpool hours, and BART will run some free round-trip buses to San Francisco, but those measures are not expected to come close to satisfying demand.
"It's going to be catastrophic," said Rufus Jeffris, spokesman for the Bay Area Council, a regional business organization.
Click here to read the full story on latimes.com.