This is an archived article and the information in the article may be outdated. Please look at the time stamp on the story to see when it was last updated.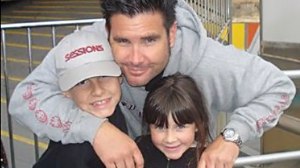 SAN FRANCISCO — Bryan Stow, the father of 2 who was viciously beaten in the parking lot of Dodger Stadium, has suffered a setback.
Stow is hospitalized again because of a "large blood clot."
On their website, family members say the clot is from Stow's thigh to his pelvis.
He was initially hospitalized earlier this week and then released, only to be rushed back again 2 days ago.
"Needless to say, we are scared and worried. We thought we were past the point of being afraid of Bryan even surviving," the website entry read.
Stow is expected to be in the hospital at least through the weekend.
Stow suffered permanent brain damage in the 2011 attack.
Louie Sanchez, 29, and Marvin Norwood, 30, pleaded not guilty to the beating in November.