This is an archived article and the information in the article may be outdated. Please look at the time stamp on the story to see when it was last updated.
Rancho Feeding Corp., the BayArea slaughterhouse that recalled nearly 9 million pounds of beef products last month, sold some meat that came from cows with eye cancer, according to documents obtained under the Freedom of Information Act.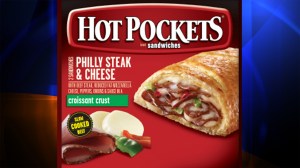 Meat processed by Rancho Feeding was sold to thousands of retail stores, including Kroger, Food 4 Less and Wal-Mart as well as smaller meat markets that cater to Latino customers. The Rancho Feeding recall has also led to a voluntary recall by Nestle of its Philly Steak and Cheese flavored Hot Pockets after it discovered a supplier had bought meat from Rancho Feeding.
In a Jan. 14 suspension letter, the U.S. Department of Agriculture's Food Safety and Inspection Service said that an investigation of Rancho Feeding showed the company sold cattle "likely affected with epithelioma of the eye."
Regulators said they found two cattle heads with cancer that had made it to market showing no signs they had been inspected.
Click here to read the full story at LATimes.com.