This is an archived article and the information in the article may be outdated. Please look at the time stamp on the story to see when it was last updated.
Despite not working for about 18 months straight to take care of her ailing grandfather and son, Bell's second-ranked administrator was never docked a single vacation or sick day and continued to draw her full salary and benefits.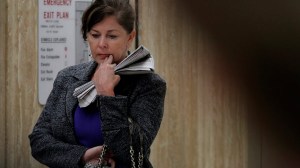 At the same time while she was out, she continued to build up more vacation and sick leave, which was used to repay large loans she had taken from the city, Angela Spaccia testified Monday. In all, Spaccia received about $350,000 in city loans which prosecutors contend were illegal.
Spaccia, who was second-in-command in Bell when the city became engulfed in a salary scandal, is fighting 13 corruption-related charges and has been on the witness stand seven days.
Dep. Dist. Atty. Sean Hassett focused on the time Spaccia spent in Idaho to take care of her grandfather in 2005 and 2006.
Click here to read the full story on LATimes.com.