This is an archived article and the information in the article may be outdated. Please look at the time stamp on the story to see when it was last updated.
Take a look inside Beyond Meat's brand new research and development facility where they are re-creating favorites like burgers and sausage using plants.
Beyond Meat is known for its breakout plant-based burger that looks and tastes like the real thing.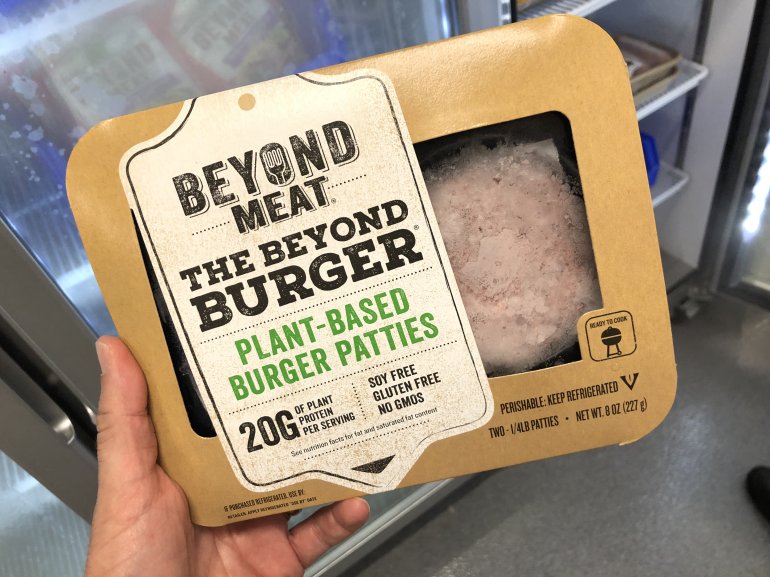 Now, the company is tackling other backyard favorites including sausage and bratwurst. Recently, they invited the media on a tour of their brand new 26,000 square foot research and development center just south of Los Angeles International Airport.
We also got to sample some of their latest products.
---
Follow KTLA 5 Tech Reporter Rich DeMuro on Social Media for useful tech news, apps & gadgets: 
Facebook: http://facebook.com/RichOnTech
Twitter: http://twitter.com/richdemuro
Instagram: http://instagram.com/richontech
---
We walked through several areas where scientists, engineers and food technologists were working hard on the future of plant-based food.
In the first room, which we weren't allowed to photograph, a mini production line where test items are created assembly line style.
Next, we went into a room where a machine called a texture analyzer chomped down on plant patties to figure out if they have that signature feel of a real burger when you bite into them.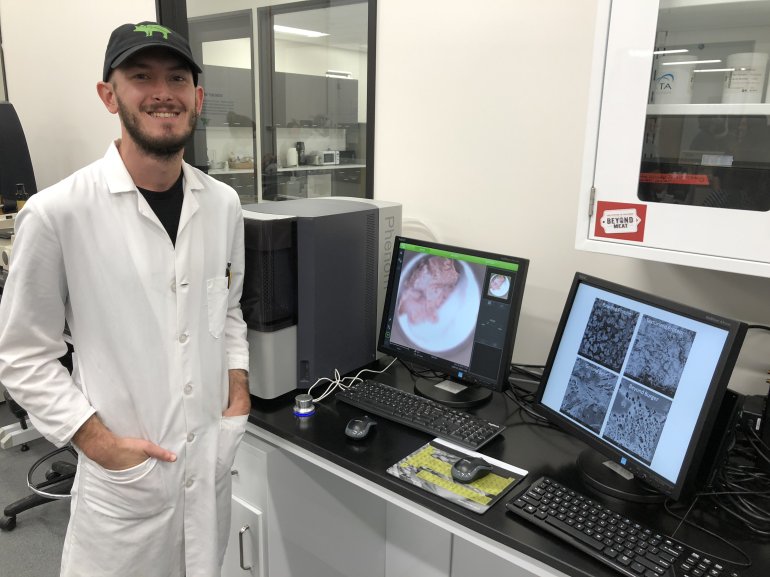 Then, we saw a chemist working with a device called an electronic nose. He extracted some of the juice from a real cooked steak, then put it into a machine that would sniff out the molecular properties. Then it was time to figure out which fruits, plants and flowers could re-create the same aroma.
After that, we witnessed the process of extracting color from a beet. This way it can become the signature red in a plant burger that resembles what real beef would look like.
Finally, it was off to a taste test room where prototype meats are sampled and rated by focus groups.
If it all sounds super futuristic, it really is. It was pretty crazy to see all of these people running around in white lab coats creating what will feed the next generation of vegans, vegetarians and anyone interested in their health.
"You can apply cutting edge science to this, but you have to remember at the end of the day food is very intimate and people want to eat things that are very familiar to them," explained Beyond Meat CEO Ethan Brown to me in an interview.
He started Beyond Meat with a hunch that the public - even meat eaters - could appreciate a new version of their favorite foods.
"So we essentially bypass the animal. The consumer is getting really clean protein directly from plants in the same assembly and experience as if it came from the animal," explained Brown.
So what did I taste test?
A bratwurst that was super juicy and delicious. The texture was identical to the real thing. You could serve it at any picnic.
The burger - with insides that resemble real ground beef - might fool even the most devout meat eater. Until you take a bite, only then could I tell that it was not the real thing. It had a bit of a smokier taste than I expected.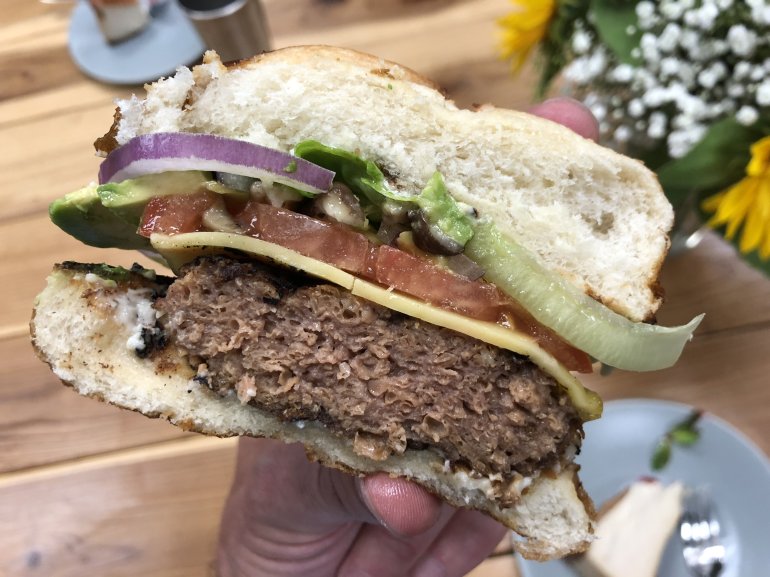 My favorite was the breakfast patty, which is coming soon. It was served in a breakfast sandwich that I'd be happy to order at any fast food restaurant. It was delicious. Better for you than pork with more protein.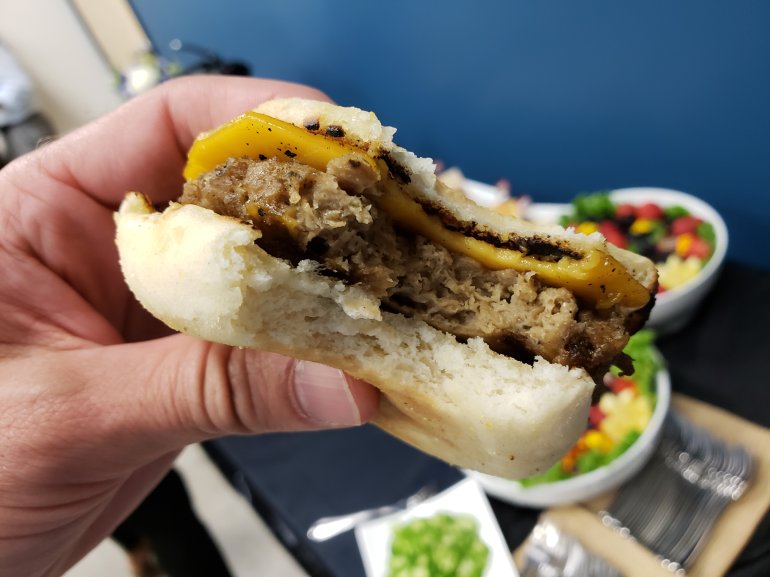 And, although this is science, this isn't frankenfood. Beyond Meat uses natural ingredients that aren't genetically modified.
"We have to be very clear with the consumer that although this is scientific and there is a process, it's a process they're entirely welcome to see," concluded Brown.
NOW LISTEN: Beyond Meat founder and CEO Ethan Brown explains why he wants his plant-based burgers and sausage to appeal to all eaters - not just vegans and vegetarians. From the Rich on Tech Podcast.
[protected-iframe id="09d675bf0c7a9ce5780456a1b2f3a2bc-41641936-42315212" info="https://player.pippa.io/5a788c1e77abb830441900e8/episodes/beyond-meat-is-building-burgers-sausage-from-plants?theme=white&cover=1&latest=1" width="100%" height="110px" frameborder="0"]