This is an archived article and the information in the article may be outdated. Please look at the time stamp on the story to see when it was last updated.
Authorities asked the public for help in their investigation into a hit-and-run Wednesday that left a bicyclist dead in Anaheim.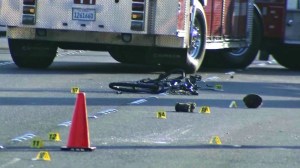 The crash occurred at about 5:40 a.m. on Orangethorpe Avenue, east of Lemon Street, according to Sgt. Bob Dunn of the Anaheim Police Department.
The bicyclist was struck by two vehicles, the first of which left the scene and was being sought by police, Dunn said.
The male victim found under the second vehicle and was pronounced dead at the scene, according to Dunn.
Authorities had no description of the first vehicle, or the driver now wanted for felony hit-and-run, but hoped to find a witness or surveillance video that could help with the investigation.
The victim's identity was not immediately released.
Anyone with information was asked to call the Anaheim Police Department at 714-765-1900.