This is an archived article and the information in the article may be outdated. Please look at the time stamp on the story to see when it was last updated.
LOS ANGELES (KTLA) — Billionaire inventor Elon Musk unveiled plans on Monday for a super-high-speed "hyperloop" rail system.
Musk, the founder of SpaceX and co-founder of Tesla Motors and PayPal, said he has a plan for transportation that's right out of the "The Jetsons."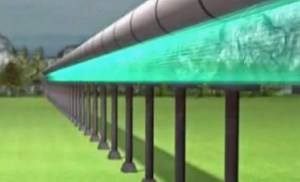 The idea was based on the old-fashioned pneumatic tubes that were once used to send mail between offices.
Musk's plan involved building a giant pneumatic tube with some kind of Maglev train system inside that travels faster than the speed of sound.
Musk called it the "hyperloop," and claimed passengers could travel from Los Angeles to San Francisco in less than 30 minutes.
A trip from New York to London would take about 45 minutes, and going around the world would take just six hours, according to Musk.
The system would run on solar power and could be ready in about 10 years, he said.
The "hyperloop" would be about one-tenth the cost of a high-speed rail system and a quarter of the cost of building a freeway, Musk said.
Critics questioned whether the physics of such an idea are possible.
They also pointed out that there would be many practical obstacles, including securing all the necessary land.