This is an archived article and the information in the article may be outdated. Please look at the time stamp on the story to see when it was last updated.
A blood drive was held Wednesday to benefit a 16-year-old high school student who has been diagnosed with cancer.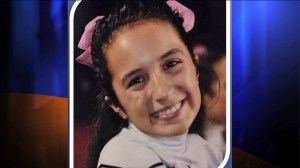 Doctors recently found that Sandra Martinez, a junior at Azusa High School, had a cancerous tumor in her chest.
Following a biopsy procedure, Martinez suffered some severe complications which caused her lung to collapse, according to a page dedicated to her on YouCaring.com.
She was transferred from City of Hope hospital in Duarte to Children's Hospital Los Angeles, where she was listed in serious but stable condition.
Martinez, an honor roll student and varsity cheerleader, was placed in the intensive care unit and was in need of blood daily, according to Children's Hospital Los Angeles.
The Children's Hospital planned to send a blood donation mobile in Sandra's name to Azusa on Tuesday.
Any blood that was not a match for Sandra would be used to benefit another child in need, according to the hospital.
Donations can be made on the YouCaring.com page to help with her medical needs and any other needs her family may have.
A benefit was also planned for Sunday, March 9 at St. Frances of Rome Parish Hall at 501 E. Foothill Blvd. in Azusa (map), according to a support page set up for her on Facebook.