This is an archived article and the information in the article may be outdated. Please look at the time stamp on the story to see when it was last updated.
The newest member of the Riverside County Sheriff Department's K-9 tracking team was introduced to the public on Thursday.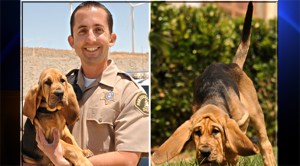 Windy, an 11-week-old bloodhound, was chosen after a comprehensive selection process to join a well-established canine team credited with identifying and locating hundreds of individuals, according to a news release from the Riverside County Sheriff's Department.
Once her training was completed, Windy was set to join Inga, a 7-year-old bloodhound; Mandy, a 6-year-old bloodhound; and Marley, a 6-year-old German Shepherd.
Windy's new partner, Deputy Robert Ochoa, will be her handler throughout her entire career with the department, the release stated.
She was acquired through a private donation to the department's K-9 program, according to the release.