This is an archived article and the information in the article may be outdated. Please look at the time stamp on the story to see when it was last updated.
LOS ANGELES (KTLA) —  A body found in the trunk of a rental car in the Harbor Gateway area of Los Angeles was identified Monday as that of a 44-year-old North Hollywood man.
A dog walker found the body of Dion Michael Shivers around 9:15 a.m. Friday in the 500 block of W. 146th Street.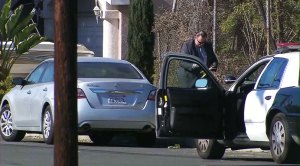 Residents say the gray Nissan Altima had been parked in the 500 block of 146th Street for days.
Shivers' body was found wrapped in a blanket.
His cause of death has not been determined.