This is an archived article and the information in the article may be outdated. Please look at the time stamp on the story to see when it was last updated.
HAWAIIAN GARDENS (KTLA) — Homicide investigators have arrested the husband of a missing woman whose body was found in the back of her SUV at a local casino.
Investigators say they served a search warrant at the home of the 57-year-old victim, Charita Tolentino, and her husband, Thomas Infante, where they found evidence which implicated him in her murder.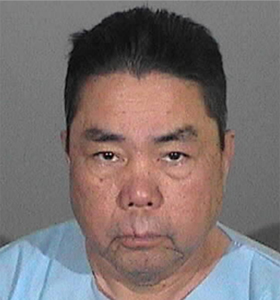 Authorities believe Infante killed his wife at their home then transported her body in a car, which he parked and abandoned in the parking lot of the Hawaiian Gardens Casino.
The victim's family made the grim discovery around 9 a.m. Sunday.
They had searched at several other locations before the casino, police said.
Police say Tolentino lived in West Covina with her husband and 17-year-old daughter.
Tolentino worked as a nurse and was last seen leaving work in Los Angeles Friday morning, but she never made it home.
Investigators are now examining casino surveillance video to try to pinpoint the time the woman's red Toyota RAV4 was left at the casino.
Police also hope an autopsy completed in the next few days will uncover more clues about her death.
Anyone with information about the case is asked to call the Los Angeles County Sheriff's Department's Homicide Division at (323) 890-5500.