This is an archived article and the information in the article may be outdated. Please look at the time stamp on the story to see when it was last updated.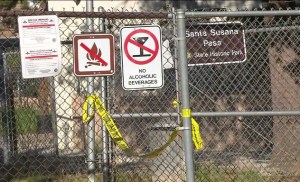 CHATSWORTH, Calif. (KTLA) — A man out walking his dog Tuesday discovered a body that authorities say had been stabbed by a knife.
The victim, believed to be a man in his 30's, was found in Oakwood Memorial Park off Valley Circle Boulevard.
The knife wound wasn't the only sign of trauma to the unidentified victim according to the man who found the body.
Bob Frazier says the victim's shirt was off and a bag was over his head when he discovered him. "It was a pretty gruesome thing," Frazier said.
Investigators did not immediately release any information on a possible suspect or motive for the stabbing.