This is an archived article and the information in the article may be outdated. Please look at the time stamp on the story to see when it was last updated.
A bomb squad responded to a busy area of Hollywood, shutting down streets during rush hour on Thursday afternoon, according to Los Angeles police.
Officers received a report of a suspicious device inside a parked car in the area of Vine Street south of Sunset Boulevard at 2 p.m., according to Los Angeles Police Department Lt. Marc Reina.
"We checked out the vehicle and the device and determined there was no hazard," Reina said.
The gold sedan that had aroused suspicions was parking lot between a McDonald's and the ArcLight movie theater, off the west side of Vine Street, aerial video showed.
The McDonald's was evacuated, Reina said.
The appearance of the material inside the raised suspicion, as did the way in which the call to police came in, Reina said.
An item that was removed from the vehicle appeared to be a Craftsman air compressor, aerial video showed.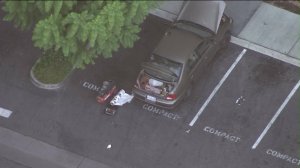 Officers had blocked off Vine Street between DeLongpre Avenue and Sunset Boulevard, aerial video showed. Vine Street was reopened by about 6:30 p.m.
No arrests were made, Reina said.